I have to say that my favorite Summer holiday is the 4th of July. I don't know if it's my patriotism; or if it's the summer heat and visiting and sharing with friends; or if it's the fireworks that light up the night sky that makes me love this holiday so much. Perhaps, it's all of those and more.
I've been wanting to do some decorations for the holiday but also creating those decorations with my hands. I decided to look around the wonderful and vast universe that is the internet for awesome crocheted ideas. I'm gonna share these with you. I've rounded up several free and paid patterns with links back to the designers' pages so that you can check out the incredible designs.
Happy 4th of July!
***AFFILIATE DISCLAIMER: Same DiNamics Crochet is a participant in the Annie's Affiliate Program, an affiliate advertising program designed to provide a means for sites to earn advertising fees by advertising and linking to anniescatalog.com.***
1. Petals to Picot – American Flag Wreath Crochet Pattern, Free
"I always find myself admiring Lucy's crochet wreaths on Attic 24, like this one here and this one here, so I thought it would be fun to try one of my own. With the 4th of July approaching, a patriotic wreath seemed the perfect idea. I love how it came out and am looking forward to making one for every holiday! Hope you enjoy it …" – Petals to Picot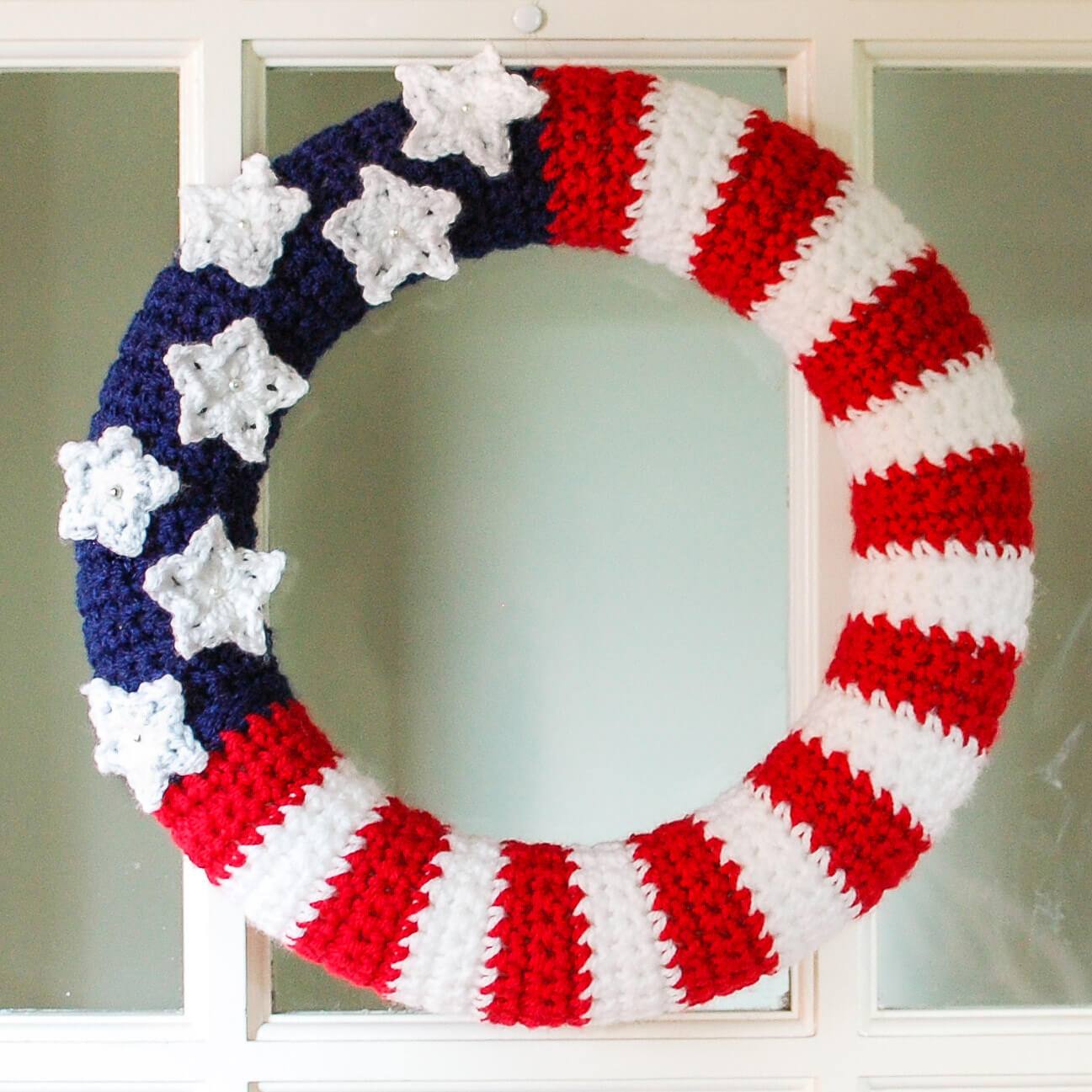 2. Patriotic Bunting – Free Ravelry Download
Patriotic Bunting is a quick and easy way to decorate for the 4th of July holiday!
3. Red Heart – American Place Setting – Free Download
Show your spirit on July 4th, Memorial Day, Labor Day or any patriotic event with this table setting. If you don't have time to crochet enough placemats for a crowd, just make a set of coasters or napkin rings! – Red Heart
4. Red Heart – Patriotic Pillow Crochet Pattern, Free
Give a cheer for the red, white and blue with this patriotic pillow. It's perfect for a room accent or to give to anyone who has a loved one serving our country. – Red Heart
---
There you have it! These are quick projects that you can work up to decorate your home in time for the 4th of July!
Much Love and Happy Hooking,
D.